Harry the Hare is a main character.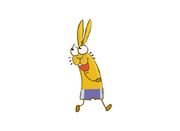 Harry the Hare
Toto the Tortise (from Harry and Toto)
Personality

Edit
Harry is fast and runs. He's a little bit naughty as seen in Over and Under, when he goes underground, forgetting that PC Barry the Bear told him not to go. He likes bananamilkshake. Every end of episode, he drinks a milkshake with Toto.
Ad blocker interference detected!
Wikia is a free-to-use site that makes money from advertising. We have a modified experience for viewers using ad blockers

Wikia is not accessible if you've made further modifications. Remove the custom ad blocker rule(s) and the page will load as expected.